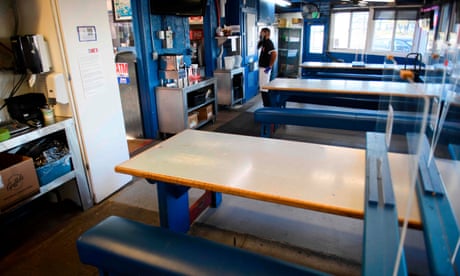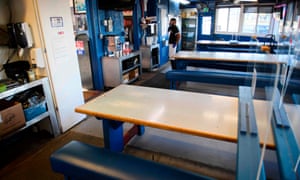 2.50pm GMT
14:50
Closing summary
1.34pm GMT
13:34
US non-farm payrolls decline unexpectedly
12.24pm GMT
12:24
Bitcoin sales new highs
12.18pm GMT
12:18
UK regulator approves Moderna vaccine
10.19am GMT
10:19
Eurozone jobless rate in surprise fall
9.58am GMT
09:58
Oil prices climb to 11-month highs
9.50am GMT
09:50
Market summary
2.50pm GMT
14:50
Closing summary
Just after Wall Street opened, the main indices hit new all-time highs. The Nasdaq rose more than 100 points to 13,176 while the Dow Jones touched 31,140 and the S&P 500 climbed to 3,824.
Over here, the FTSE 100 index is flat, Germany's Dax is 0.71% higher, France's CAC has gained 0.5% and Italy's FTSE MiB is unchanged.
Stock markets shrugged off news that the US economy unexpectedly shed 140,000 jobs in December, the first decline since April, while the jobless rate remained at 6.7%. Investors are betting on more fiscal stimulus from the incoming president Joe Biden, as both chambers of US Congress are now controlled by Democrats.
In the eurozone, the unemployment rate fell unexpectedly to 8.3% in November but youth unemployment rose, to 18.4%. German industrial production was strong, keeping alive hopes that Europe's biggest economy avoided a double dip recession.
Oil prices have climbed to 11-month highs and bitcoin has hit a new record high.
Thank you for reading! Have a good weekend. We'll be back on Monday. Stay safe – JK
2.33pm GMT
14:33
The S&P 500 and the tech-focused Nasdaq have hit fresh record highs.
2.32pm GMT
14:32
Trading has begun on Wall Street, and shares are up !
S&P 500 up 15 points, or 0.4%, at 3,819
Dow Jones up 91 points, or 0.29%, at 31,132
Nasdaq up 81 points, or 0.62%, at 13,148
2.30pm GMT
14:30
The global economy has just had its worst year of the modern age and 2021 has not got off to the best of starts either, writes the Guardian's economics editor Larry Elliott. Yet stock markets appear impervious to bad news, with the MSCI world index of developed market shares 10% above its pre-crisis peak. There are a number of reasons why equity markets are so hot.
2.20pm GMT
14:20
The US dollar erased gains made before the payrolls figures, and is now down 0.09% against a basket of major currencies.
Ayush Ansal, chief investment officer at the UK hedge fund Crimson Black Capital, says:
The dollar remained fairly resilient in the immediate aftermath of the print as such dire data will reinforce the prospect of the incoming administration reigniting the country with a major fiscal stimulus package.

The fact the Democrats now control the Senate, too, gives policymakers in the new administration carte blanche to supercharge the economy and try and move the country on from the unprecedented events on Capitol Hill.

Wall Street is now looking forward, to a time beyond Trump, but at the same time market watchers are acutely aware that this is still arguably the most tense time in American political history for decades.
2.13pm GMT
14:13
In financial markets, European bourses are holding on to their gains, while the FTSE 100 index in London is flat at 6,852.
Germany's Dax up 0.61% at 14,053
France's CAC up 0.3% at 5,687
Italy's FTSE MiB up 0.14% at 22,775
2.09pm GMT
14:09
Despite the weakness in the job market, the US economy is unlikely to fall back into recession, as a $900bn stimulus programme has been agreed by Congress and the incoming president Joe Biden is expected to expand spending further to prop up the economy.
Seema Shah, chief strategist at Principal Global Investors, said:
The December jobs report marks the first drop in payrolls since April, and an end to the labour market progress that's been underway since the recovery from the pandemic began back in May. Given the accelerated rise in coronavirus cases recently and the associated drop back in activity, this was not entirely unexpected. Yet it will not go unnoticed by policymakers. With a Blue sweep controlling Congress, further fiscal stimulus is the name of the game and today's data will only assist that agenda.

By contrast, the market reaction to today's weak data is set to be muted. Investors are already looking through this temporary period of economic weakness and instead focusing on the brighter outlook where fiscal spending, monetary stimulus and mass distribution of the COVID-19 vaccines together ensure the US economy quickly returns to its pre-pandemic path.
Updated
at 2.11pm GMT
2.06pm GMT
14:06
Here is our full story on the weak US jobs numbers.
The recovery in the US jobs market collapsed in December, the last full month of Donald Trump's presidency, as coronavirus infections soared across the country, writes Dominic Rushe in New York.
The US lost 140,000 jobs in December, down from a gain of 245,000 in November, according to the Bureau of Labor Statistics (BLS). The loss ended seven months of jobs growth with the leisure and hospitality sector once again bearing the biggest losses.
The unemployment rate stayed at 6.7%, close to twice as high as it was in February before Covid-19 hit the US. It is also three percentage points higher than the 4.5% rate Trump inherited from his predecessor Barack Obama.
1.50pm GMT
13:50
In the leisure and hospitality sector, 498,000 jobs were lost in December, taking losses in this sector to 3.9 million since February, the US Labor Department said. Most of the latest loss (372,000) was at establishments serving food and drink.
Other areas fared better: Factory jobs increased by 38,000 after an upwardly revised rise of 35,000 in November. Jobs in construction and retail increased by 51,000 and 120,500 respectively.
Updated
at 2.22pm GMT
1.41pm GMT
13:41
It is the first decline in non-farm payrolls in eight months, and suggests the US jobs market recovery stalled in December. The fall was largely due to job losses at restaurants, bars, cafes and hotels.
Adam Button, chief currency analyst at Forex Live, says:
The headline was poor but the positive revisions over the last two months mitigated the damage. The earnings numbers are interesting but I'm inclined to think that's due to lower wage workers losing their jobs.
Average hourly earnings rose by 0.8%, while economists had expected a 0.2% gain.
Updated
at 2.07pm GMT
1.34pm GMT
13:34
US non-farm payrolls decline unexpectedly
The US economy shed 140,000 jobs in December, according to the latest US non-farm payrolls data. Economists had expected an increase of 71,000.
However, November's increase was revised higher to 336,000 from 245,000, and October's rise was revised to 654,00 from 610,000. The unemployment rate remained at 6.7%.
Updated
at 1.43pm GMT
1.28pm GMT
13:28
The US non-farm payrolls data comes out in a couple of minutes.
1.15pm GMT
13:15
In other good news, the Covid-19 vaccine developed by BioNTech and Pfizer has been shown to work against a key mutation in the more contagious coronavirus variants discovered in the UK and South Africa.
A laboratory study by Pfizer and and the University of Texas, which has not been reviewed by peers yet, found that the vaccine can neutralise the virus with the so-called N501Y mutation of the spike protein. More here.
12.53pm GMT
12:53
You can read more about the Moderna vaccine approval on our coronavirus live blog:
The health secretary, Matt Hancock, said:
We have already vaccinated nearly 1.5 million people across the UK and Moderna's vaccine will allow us to accelerate our vaccination programme even further once doses become available from the spring.
12.40pm GMT
12:40
Futures tracking Wall Street's main indices have climbed to new highs ahead of the US jobs data at 1:30pm GMT. The Dow Jones futures are up nearly 0.3%, the S&P 500 is 0.4% higher and the Nasdaq 0.5% ahead.
All three indices hit record highs yesterday and the S&P closed above 3,800 points for the first time amid expectations of a bigger stimulus package and infrastructure spending once Joe Biden takes office, triggering buying of financial, industrial and material stocks.