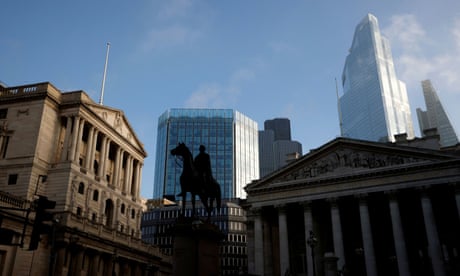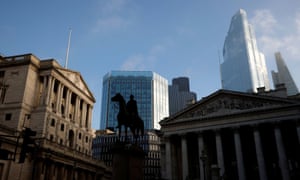 5.13pm GMT
17:13
FTSE 100 closes sharply higher but bank shares fall
12.57pm GMT
12:57
UK AI chip unicorn raises $222m
11.02am GMT
11:02
UBS: Brexit deal boosts bullish view on UK equities
9.29am GMT
09:29
FTSE 100 hits nine-month high
8.51am GMT
08:51
FTSE 250 hits 10-month high
8.40am GMT
08:40
FTSE 100 rallies in early trading
7.49am GMT
07:49
Introduction: Markets rally on US stimulus relief
6.19pm GMT
18:19
Updated
at 6.19pm GMT
5.20pm GMT
17:20
Updated
at 5.52pm GMT
5.13pm GMT
17:13
FTSE 100 closes sharply higher but bank shares fall
12.57pm GMT
12:57
UK AI chip unicorn raises $222m
Graphcore, the UK maker of chips designed for use in artificial intelligence, has raised $222m (£164m) from investors, valuing the company at $2.8bn.
The Bristol-based company's latest round of funding was led by the Ontario Teachers' Pension Plan as well as investors including Fidelity International and Schroders. Existing Graphcore investors, including Baillie Gifford and Draper Esprit, also joined the round.
The $2.8bn valuation propels Graphcore further up the ranks of the UK's most valuable private tech companies as it seeks to confirm its position in the fast-growing artificial intelligence industry. The company has $440m in cash as it seeks to expand.
Graphcore first achieved the coveted "unicorn" status, a valuation above $1bn, in 2018, when it raised $200m for a valuation of $1.8bn. Since its official founding in 2016, Graphcore has raised more than $710m from investors, including the carmaker BMW, the tech companies Microsoft and Samsung, and the prominent Silicon Valley venture capital business Sequoia Capital.
Here's the full story: